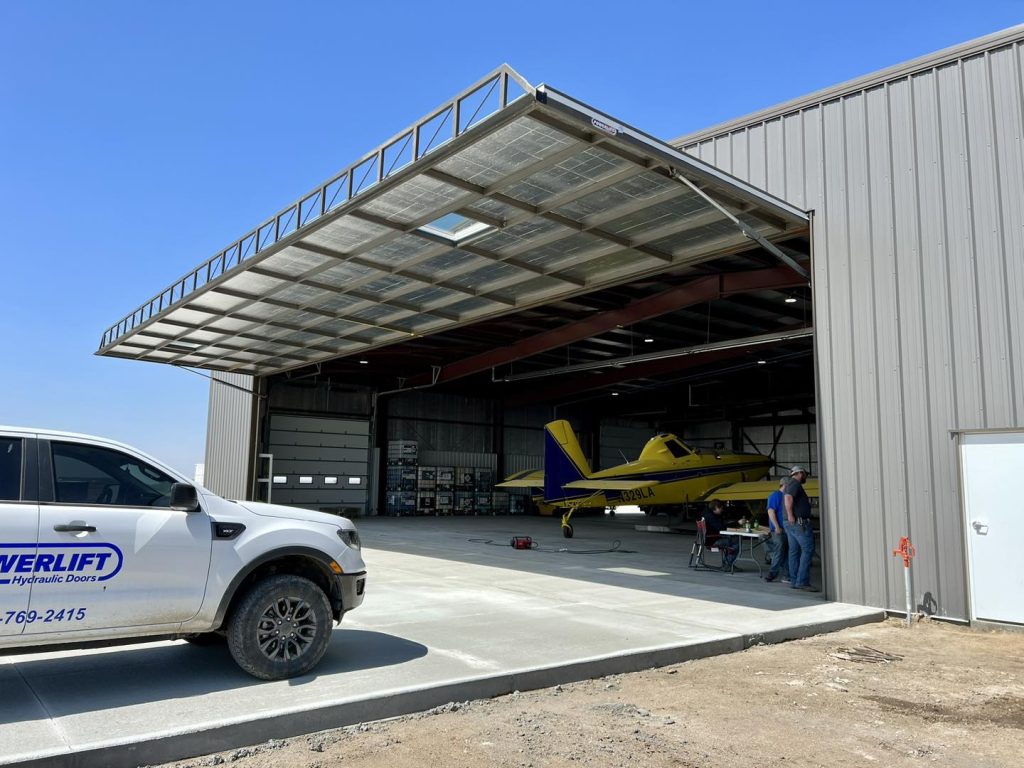 We are your local PowerLift hydraulic door manufacturers, with designs that suit any new aviation, industrial, farm, or architectural project. Once we have built your door, we will deliver and install it. When we drive away, installation is complete, and your door is operational.
Our depth of experience is unmatched, as we have tens of thousands of doors working every day all over the continent. We are also specialists in every aspect of removing and replacing old sliding, bifold, fabric, and overhead doors with PowerLift retrofits. Our retrofits will expand your current clear opening height and width for improved ease of entry.
We'll be happy to come by and measure your building next time we're in the area. Your personal door will be custom built here at our shop. Our all-welded construction, exclusive to PowerLift, creates a precise fit and stops the problems that occur when bolts and screws loosen over time. With PowerLift, there's a single person responsible for your door project from start to finish.
In 1992, the world's first production line of hydraulic doors came into existence at PowerLift's shop. The succeeding 31 years have seen exponential growth, as they expanded their footprint with local manufacturing facilities all over North America. PowerLift doors hold 'premier choice' rank, thanks to sterling performance across many industries.
In 2014 they introduced the industry's first (and still the only) 'Cushion Close' system, with cylinders that reduce door speed for the last few degrees when closing. You'll hear how PowerLift doors close far more quietly than others.
When you choose PowerLift, decades of experience is applied to your own project. We're the only company building, delivering, and installing every door. We have extensive experience, both with smaller doors as well as those well beyond 100′ in width.